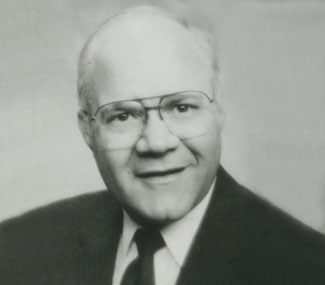 Arnold Belker was born in Louisville, Kentucky. He attended Indiana University and received his further undergraduate and medical education at the University of Louisville. He was an intern at the Tufts-associated New England Medical Center in Boston and a resident in Urology at the State University of Iowa Hospitals under Dr. Rubin Flocks. Although in private practice, Dr. Belker was a Clinical Professor in the Department of Urology at the University of Louisville School of Medicine. He was one of the first urologists in the country to perform microsurgical procedures and served as organizer or faculty member for numerous microsurgical laboratory courses conducted by the AUA and various academic institutions.
Dr. Belker was president of three national professional organizations: (1) the Society of Reproductive Surgeons (recipient of its first Distinguished Reproductive Surgeon Award "in recognition of his many contributions as a reproductive surgeon, and for his role as the 'ongoing conscience' of science in the field of male reproductive surgery"); (2) the Society for the Study of Male Reproduction (Distinguished Reproductive Urologist Award "for significant contributions to the field of reproductive urology and for service to the organization"); (3) the American Society of Andrology (Distinguished Service Award).
Dr. Belker authored over ninety professional articles, including 37 book chapters. He was a member of two different AUA Guideline Committees on Erectile Dysfunction, as well as one AUA Guideline Committee and one AUA Best Practice Committee on Male Infertility. He was a member of the editorial board of four journals and was an editorial reviewer for seven other journals. He also edited one issue of the Urologic Clinics of North America. He published an article in 1991 about a collaborative study with urologists at four other university centers concerning the results of 1,469 microsurgical vasectomy reversals. This has been considered as a landmark article on the subject. He taught a course about microsurgical vasectomy reversal for 30 years at the annual meeting of the AUA, and served for over 15 years on the infertility section of the AUA annual meeting abstract review committee. He was an invited speaker on numerous occasions in this country and Europe and also lectured in Asia and South America.
He received a 2016 AUA Presidential Citation Award in recognition of his professional accomplishments.