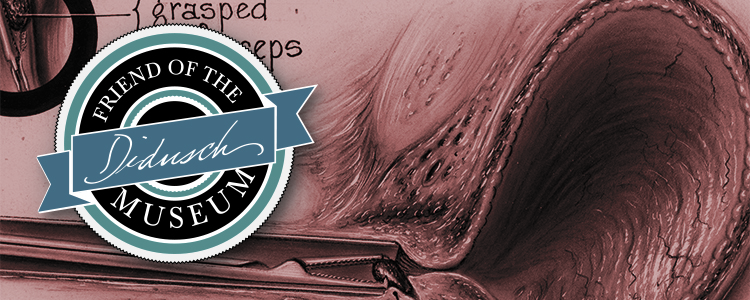 The William P. Didusch Museum of the American Urological Association was born when AUA members gathered the money to create a museum at the AUA Headquarters in Baltimore.
Today the Didusch Museum has become "The William P. Didusch Center for Urologic History" and is the largest urologic museum in the world with almost 3500 instruments, over 3000 medical illustrations and a library of more than 2500 books from more than 600 donors.
Become a Friend of the Didusch Museum
Donate to the Didusch Museum and help us preserve and expand this historic museum. There are more stories to tell, exhibits to update, questions to research, and artifacts to preserve and collect for this museum to evolve as urology evolves.
Friends of the Didusch Museum receive:
A Friends of the Didusch Museum pin
Advance notice of breaking news, upcoming lectures, programs, and events
Subscription to the Museum's online newsletter (launching Spring 2020)
Free admission/tours to the Didusch Museum
Named recognition on the Museum's webpage
Donations are critical to sustain the mission and vision of this Museum. We accept with great gratitude gifts of any size, giving of all types, and volunteers of all ages.
Thank you to those who have supported Didusch Museum.
---
Give the Gift of Time
The Didusch Museum invites you to volunteer with its staff in working with our unique historical medical collections. We look for individuals who have an interest in medicine and science. Volunteers assist with exhibit development, collections management and record keeping.
Email archives@AUAnet.org for more information.
---
Give the Gift of History
The Didusch Museum has amassed an impressive collection of artifacts through the generous gifts from urologists, family, and fellow history enthusiasts. Donations, loans, and contributions are welcome to keep our collections up to date and exciting.
Email archives@AUAnet.org for more information.