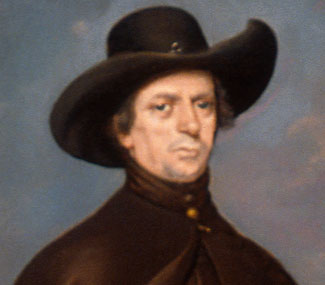 Jacques Beaulieu was born into a poor peasant family in Burgundy, France. Though dreaming of pursuing a career in medicine, he instead joined the cavalry as a private at the age of 16. Five years later, he met a traveling lithotomist and hernia surgeon, Paulomi, and became his apprentice for six years.
Beaulieu travelled with 4 assistants who prepared patients for surgery with a few days of preoperative cupping and bloodletting. Beaulieu then operated on all patients in one day, using a portable lithotomy table and sometimes with a large audience. He often left town immediately afterwards to avoid any post-operative repercussions.
Sometime around 1690, Beaulieu had an enlightenment experience and, without proper ordination, took on the garb of a monk and began calling himself Frère Jacques. He began a simple life of service to humanity, asking only small fees for his work and and often donated his earnings to the poor.
No longer satisfied with the median approach to perineal lithotomy, Beaulieu was among the first to perform lateral lithotomy which provided wider access to the bladder neck and large stones in the bladder.
Invited to perform lithotomies at the Hôtel Dieu in Paris in 1697, Beaulieu performed one lithotomy in less than a minute and 10 lithotomies in less than an hour, but his patients suffered a 53.5% mortality rate while the average at the time was 14%. Autopsy showed significant complications (more than half the mortalities were attributed to transection of the internal pudendal artery) so Beaulieu was banned from practicing at any Parisian hospitals for 5 years.
When he returned to Paris in 1702, Beaulieu studied anatomy for the first time under J.G. Duverney and then travelled to Holland, where he shared his lateral lithotomy technique with John Jacob Rau.
Frère Jacques Beaulieu was one of the most celebrated lithomists of the 17th century as he performed around 5,000 lithotomies in 30 years. He retired from surgery at the age of 60 and then died 8 years later in 1719.
Additional Resources
Frère Jacques Beaulieu: From Rogue Lithotomist to Nursery Rhyme Character [pdf]
The History of Lithotomy and Lithotrity [pdf]


Reference:
Carson, Culley C. and Ganem, Jacques P. "Frere Jacques beaulier: From Rogue Lithotomist to Nursery Rhyme Character". The Journal of Urology. Vol. 161, 1067-1069. April 1999.