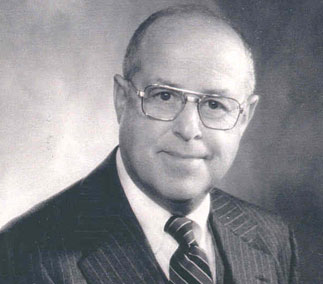 Born January 20, 1914, Herbert Brendler, MD (1914-1986) of New York City, was the 79th AUA president after having served five years as AUA secretary. Dr. Brendler served on the editorial board of The Journal of Urology® and later became associate editor and editor in 1983. He served on the Residency Review Committee for urology from 1973 to 1979 and was also chairman of that committee.
Dr. Brendler was urologist-in-chief and chairman of the department of urology at Mt. Sinai Medical Center in New York from 1963 to 1982. He received his bachelor's degree from Columbia University and his medical degree from New York University (NYU). He obtained his surgical experience in New York and completed his training in urology at the University of Virginia and The Johns Hopkins University. Prior to going to Mt. Sinai, Dr. Brendler served in the United States Navy in World War II. He also served on faculties at Hopkins, NYU and Bellevue Medical Center.
Dr. Brendler was chairman of the Cooperative Study in Prostatic Cancer, Cancer Chemotherapy, National Service Center at the National Institutes of Health (NIH), from 1956 to 1963. He has also served as a New York section executive committeeman from 1965 to 1978, and subsequently, as the section's treasurer from 1966 to 1968 and as its president from 1969 to 1970. Dr. Brendler represented the New York Section on the AUA executive committee from 1971 to1977. He was elected secretary of the AUA in 1977; as secretary, he served as program committee chairman for the AUA conventions from 1978 through 1982. Under Dr. Brendler's leadership, the traditional format of the annual meeting's scientific session was re-designed to provide for both poster sessions and state-of-the-art lectures.
Dr. Brendler, also a diplomate of the American Board of Urology, held membership in the American College of Surgeons, the American Association of Genito-Urinary Surgeons, the Clinical Society of Genito-Urinary Surgeons, the American Association of Clinical Urologists, the American Medical Association as well as numerous other national and foreign medical organizations. He traveled extensively and served as guest professor and special lecturer at many national and foreign universities and medical organizations. Dr. Brendler was author or co-author of approximately 150 scientific publications.
Dr. Brendler died in 1986.