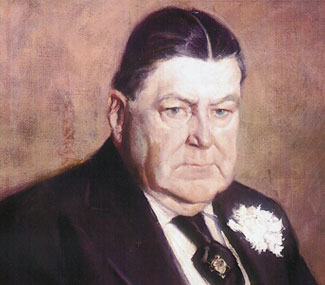 Born in New York City, James Buchanan Brady made his fortune by selling railroad equipment, though he started his career as a messenger boy in Grand Central Station. "Diamond Jim" Brady loved and had numerous sets of jewelry made for himself, one for each month of the year. These included several diamond sets, the largest included a scarf pin of 33 carats, a ring of 25.5 carats and near the end of his life, a 3 carat diamond inlaid on the head of his cane.
In addition to being obese, hypertensive and diabetic, Mr. Brady also had gallstones, an obstructing prostate and infected urine. The only physician willing to operate on him was Hugh Hampton Young, MD who used his prostate punch on Mr. Brady in 1912. The next day, Dr. Young left for a prearranged speaking engagement in Europe. Mr. Brady's recovery was stormy, but after several months in the hospital, he fully recovered and was able to leave. He returned to New York where Dr. Oswald Swinney Lowsley, recommended to Brady by Dr. Young, looked after him.
Brady made a large donation following his successful prostate surgery that enabled the building of the Brady Urological Institute at The Johns Hopkins Hospital in 1915. Mr. Brady was enthusiastic about his contribution and sent intimate friends and poor townspeople to receive treatment free of cost. Although his passion would always be diamonds and food, Mr. Brady did enjoy seeing the benefits of his donation in the years prior to his death.
James Brady died in Atlantic City on April 13, 1917 after gradually succumbing to diabetes, renal failure and angina.
Additional Resources
www.nytimes.com/2008/12/31/dining/31diam.html
Hugh Hampton Young Chapter on James Brady [pdf]