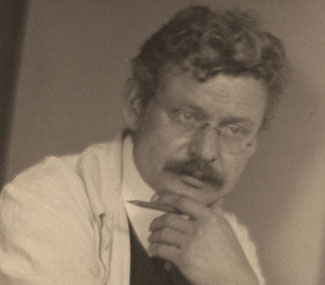 Born in Leipzig, Germany, Max Brödel attended Technical High School and then went on to the Leipzig Academy of Fine Arts from 1885-1990. While in school, he went to work in the Anatomical Institute and later in the Physiological Institute.
After serving for one year in the service, he returned to his hometown in 1892 to begin freelance art and mastered anatomical illustrations when he began to work for Dr. Kelly in the Gynecological Department of the Johns Hopkins Hospital. When Dr. Kelly's two volumes of Operative Gynecology came out in 1898, he was recognized as a leader in American gynecology and Brödel's work in the publication reshaped medical illustration.
In 1909 Brödel was made an honorary member of the Medical and Chirurgical Faculty of Maryland: the only layman to have been given this distinction.
In 1910, Thomas Cullen, a lifelong companion of Brödel's, envisioned a department that combined medicine with art. In that same year, Brödel was invited to join the staff at the Mayo Clinic, one of the finest private clinics in America. In order to keep his friend in Baltimore, Thomas Cullen persuaded Mr. Henry Walters, a man deeply invested into the arts, to give Johns Hopkins Hospital $5,000 for 3 years to create the Department of Art as Applied to Medicine at Johns Hopkins Medical School. Thus the first art school of its kind opened in 1911, and Max Brödel was made Associate Professor of Art As Applied to Medicine.
Though Brödel died in 1941, his work, dedication, and lifelong commitment to medical illustration have left a remarkable impact on those pursuing this career.
Reference:
Cullen, Thomas A. "Max Brödel, 1870-1941, Director of the First Department of Art as Applied to Medicine in the World". Bulletin of the Medical Library Association. Vol. 33, No. 1, January 1945.