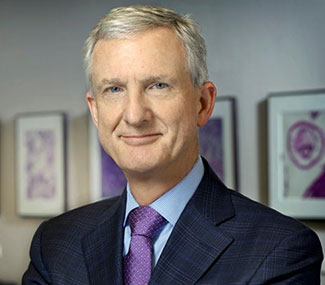 H. Ballentine Carter, MD attended Furman University in Greenville, South Carolina, where he received bachelor's degrees in biology from the college and in pharmacy from the School of Pharmacy in 1975. He then attended the Medical College of South Carolina in Charleston where he received his medical degree in 1981 with honors (Alpha Omega Alpha).
From 1981 to 1983, Dr. Carter was assistant resident in the department of surgery and from 1983 to 1987, assistant resident and then chief resident in the department of urology, all at The New York Hospital of Cornell University School of Medicine in New York City. Following completion of his residency, he received an AUA scholarship for postdoctoral and research training in the department of urology at The Johns Hopkins Hospital in Baltimore. There he served as an instructor in urology from 1987-1989.
In 1989 he was promoted to assistant professor, in 1993 to associate professor and in 1998 to full professor in the department of urology at The Johns Hopkins University School of Medicine.
Dr. Carter has been awarded first prize in the Ferdinand C. Valentine Urology Residents Essay Contest by The New York Academy of Medicine and the New York Section of the AUA. He has pursued an ongoing series of research projects in the area of prostate cancer and prostate disease with a particular interest in the natural history, early detection and prevention of this devastating problem of older men.
Dr. Carter is author or co-author of 70 original peer-reviewed research publications, 25 review articles and book chapters and 60 research reports presented in abstract at meetings of learned scientific and medical societies all over the world.