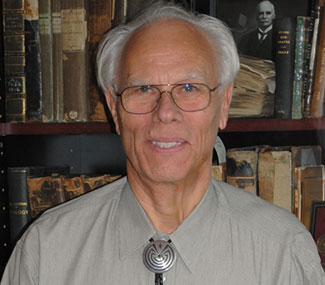 Rainer Engel, MD, FACS, passionately and tirelessly served the AUA's William P. Didusch Center for Urologic History for 23 years as curator of the museum and subsequently AUA Historian.
Dr. Engel published on a wide range of subjects, including urinary diversion, hypospadias and urologic cancers. In addition to publishing medical research and case studies, he wrote numerous chapters in medical books and many urological history monographs and AUA museum publications.
The AUA awarded him The William P. Didusch Art and History Award in 1996 and honorary membership to the AUA in 2006. Both Rainer and Dorothy were honored by the AUA Board with an appreciation award in 2004 for their work in rebuilding the museum at the new AUA Headquarters.
Rainer's biography is best told in his own words, taken from a piece he wrote for the museum's website:
I was born the third of nine children in 1933 in a small town outside of Cologne, Germany. My early years were heavily influenced by World War II—bombings, troops marching through our city and bodies in the street—which left an indelible impression on me. After grammar school, I went to the Gymnasium in our town where I had the pleasure of learning Latin and Greek, subjects that I did not particularly care for. The one subject, ironically, that I truly loathed was history: a quagmire of dates and names that seemed to be totally unrelated to each other yet had to be memorized and spouted forth on command. My father was a teacher at this school, so he knew about my achievements—both positive and negative—long before classes were over and "discussed" them with me after school.

I decided to study medicine—with all of its Latin and Greek—after entertaining dreams of becoming an architect or sculptor. No one thing led me to become a doctor, but family friend-physicians and fond memories of time spent being patched up for play-related scrapes and worse led me to the hospital to make my living. I went to medical school at the Rheinische Friedrich Wilhelm Universität in Bonn, which at that time was the provisional capital of Germany. While taking my final boards (a rather protracted, laborious, and intense torture), I decided with one of my friends that each night before the next exam we would go to the dumbest movie we could find. One night we ended up captivated by a movie called Dream Street of the World, and as we walked out, we thought, one day we will drive that street. After my internship in Germany, I decided to turn that dream into a reality. My friend and I saved enough to buy a VW convertible and at the end of our internships started on a six-month trip through the United States, including Alaska, traveling down the "Dream Street" of the world. It was then I realized that I wanted to remain in the United States.

Because of my visa, I had to return to Germany for two years. By that time, I had married Dorothy, a young blonde nurse, and after two years in Europe, the two of us returned. In 1970, I finished my urology residency at Johns Hopkins and became chief resident. I practiced at both Hopkins and Union Memorial and also Greater Baltimore Medical Center and Baltimore City Hospital. I joined the AUA in 1976. William W. Scott, MD, my professor throughout my residency, had become the curator of the AUA's Didusch Museum after his retirement, and one time during rounds leaned over to me and whispered, "Rainer, would you like to become the next curator?" I was stunned and excited – and I agreed. That year I began to work with him, and, in the spring of 1993, took his last exhibit to San Antonio, and it was there that the board officially approved me as curator of the museum.

Though I am retired now, I continue to teach at Johns Hopkins, as well as coordinate, prepare and execute exhibits for the museum and travel around the world gathering artifacts for the Didusch collection. And the "young blonde nurse"—my wonderful wife, Dorothy—not only condones my work at the museum, but shares my plans and works with me to make the museum great.
For more information on Dr. Engel's work with the William P. Didusch Center for Urologic History, see the article published by the Washington Post titled Man Goes to See a Doctor...