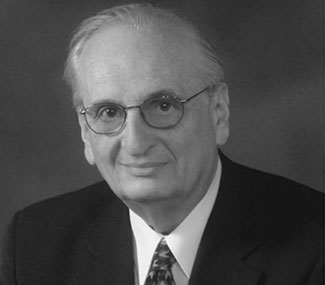 M. Judah Folkman, MD was a pioneer in the field of cancer research, originating the idea that angiogenesis—formation of new blood vessels—is a key factor in the development and growth of tumors. He is currently the director of the Vascular Biology Program at Children's Hospital Boston and professor of pediatric surgery and cell biology at Harvard Medical School.
Born in Cleveland in 1933, he attended Ohio State University and received his medical degree from Harvard Medical School. Drafted into the U.S. Navy in 1960, it was during his work at the National Naval Medical Center in Bethesda that he began the early stages of his cancer research, seeding a rabbit thyroid gland with cancer cells and feeding it with blood substitute. Tumors grew in the gland, but failed to grow beyond a certain size. However, when implanted into a live rabbit, the tumors flourished. This early research helped shape Dr. Folkman's research career, as he worked to prove that tumors require a dedicated blood supply and secrete a protein to promote vessel growth. Though not always believed, Dr. Folkman postulated that the process of angiogenesis was a key factor in the transformation of a set of mutated cells into a large malignancy. His theories led to the development of some of today's most investigated drugs—angiogenesis inhibitors, such as Endostatin.
It was also during his time in the Navy that Dr. Folkman reported the use of implantable rubber polymers for sustained release of drugs, leading to the concept of controlled-release technology for drug delivery.
Dr. Folkman gave the keynote address during the AUA Annual Meeting in Chicago in 2003.