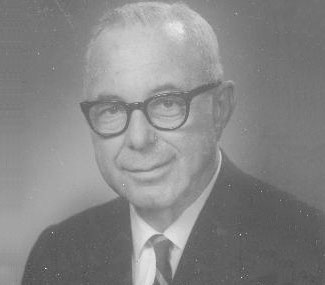 The son of a Baltimore clothing storeowner, Rubin Flocks attended The Johns Hopkins University for undergraduate and medical school. A superior student, he sought training in orthopedics and then in urology. He trained under the fortunate tutelage of Dr. Nathan G. Alcock at the University of Iowa in Iowa City. Dr. Alcock was a pioneer in the new technique of transurethral resection of the prostate. From him, Rubin Flocks learned the "open-door policy" by which he later made himself accessible to any medical student, resident or physician seeking his help or counsel.
Dr. Flocks' career as an educator began when he was still a resident, typing the patient's clinical history, physical findings and radiographic findings with diagnosis and planned management. He later joined Dr. Alcock as an assistant professor and progressed through the World War II era to become a full professor. Dr. Flocks became the second chairman of the department of urology in 1949 upon Dr. Alcock's retirement. Dr. Flocks' legendary, concise urology lectures contained some theatrical elements which always caught the attention of both students and residents.
Dr. Flocks worked unselfishly day and night, instilling in his residents the need to give lavishly of their time and energy. He once reflected philosophically that his father would not have understood the need for such dedication, but Dr. Flocks knew it was the lifeblood of his work. In the summer of 1962, he assumed interim dean responsibility for the college. In all, his service to the University of Iowa and University Hospitals spanned 40 years.
Never satisfied with his knowledge in urologic subjects, he studied the vascular anatomy of the prostate which allowed resection of prostatic tissue with minimum blood loss. After World War II he collaborated with Dr. Dabney Kerr, and developed colloidal gold as a therapy for extensive prostatic malignancy. Dr. Flocks also recognized the importance of staging lymphadenectomy in treating prostate cancer.
Dr. Flocks was secretary and president of the American Board of Urology from 1963 to1968, and served on the Residency Review Committee for Urology from 1958 to1975. The University of Iowa College of Medicine received extended service from Dr. Flocks on the Compensation Committee, which had fiscal oversight of faculty salaries and benefits.
In organized medicine, as secretary and then as president of the AUA in 1969, his concerns focused on quality training programs and appropriate funding of urologic research. The Flocks Prostatic Disease Center (now called the Rubin H. Flocks Urology Clinic) at the University of Iowa was established and funded in 1972 with private contributions from Dr. Flocks' grateful patients to assure continuing study of urologic disease for improved patient care.
In the same simplicity in which he lived, he died on May 17, 1975, in the Prostatic Disease Center he founded.