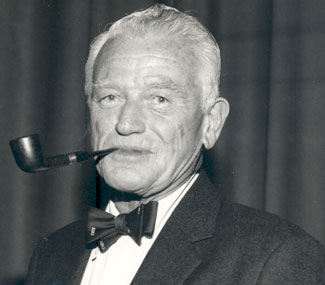 Willard E. Goodwin, MD was born in Los Angeles, California on July 24, 1915. He attended college at the University of California in Berkeley and later went to The Johns Hopkins School of Medicine where he graduated in 1941. Dr. Goodwin first went into a pathology residence, which was interrupted when he was drafted into the Army in October 1942. After the war he returned to Johns Hopkins, and was accepted into the urology program on January 1, 1946. After completion of his residency in 1949, Dr. Willard became the chair of the new urology program at the University of California, Los Angeles (UCLA).
Dr. Goodwin's innovative and inquisitive mind led to a number of firsts: he was the first to use prednisone to block transplant rejection and started the first urology transplant program. In endourology, he was the first to perform an antegrade pyelography. Dr. Goodwin was an advocate for the use of intestinal tract in urology, describing intussusception of the ureters and ileum to reduce reflux and other innovations. He was also one of the early authors describing the use of acrylic implants in the treatment of erectile dysfunction.
Dr. Goodwin received numerous urology awards including the Hugh Hampton Young Award, the Valentine Medal, the Keyes Medal and in the Ramon Guiteras Award. He died after a long illness on July 22, 1998.