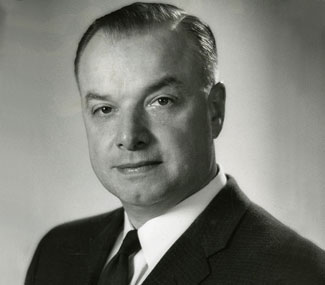 Clarence Hodges, MD grew up in Lead, South Dakota. Upon completing his undergraduate studies from Iowa State University in 1936 he attended medical school at the University of Chicago and graduated in 1940. While a medical student at the University of Chicago, he worked with Nobel laureate Charles Huggins and was co-author on the landmark paper, "Studies on Prostate Center: The Effect of Castration, of Estrogen and of Androgen Injection on Serum Phosphatases on Adenocarcinoma of the Prostate," which appeared in the first volume of Cancer Research in 1941.
After completing his internship at the University of Chicago in 1942, Dr. Hodges became a flight surgeon in the US Army. He served from 1942 to 1945 flying with bomber crews on missions over Europe. Dr. Hodges completed three years of urology residency between 1945 and 1948. He began his residency at the University of Chicago, moved to Ancker Hospital in St. Paul, Minnesota and ended up at The Johns Hopkins University in Baltimore.
Dr. Hodges left Baltimore in 1948 to become the first full-time chairman of urology at the University of Oregon School of Medicine (OSM)—a position he held until 1979. As chairman, he had 122 publications, worked with J. Engleburt Dunphy, MD and Joseph Murray, MD, (Nobel laureate), to start the kidney transplant program at OSM in 1959 and continued his prostate cancer research. Dr. Hodges received the Eugene Fuller Award in 1977.
In 1979, he left OSM for the University of Hawaii, where he was chairman of urology until 1982. The years from 1982 to 2001 were spent on the big island of Hawaii, first in private practice, and then in retirement. In that time he was elected into The Johns Hopkins Society of Scholars (1981) and received the Barringer medal from the American Association of Genitourinary Surgeons (1983).
During his career, Dr. Hodges was president of the Western Urologic Forum, the Western Section of the AUA, the American Board of Urology, the Clinical Society of Genitourinary Surgeons, the Society of University Urologists and the American Association of Genitourinary Surgeons.