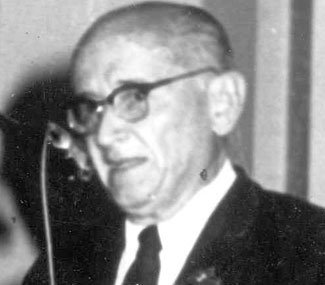 José Iglesias was born in Havana, Cuba,one of seven boys. The boys grew up in a tough love, military household: four of them became physicians, one a lawyer, one a pilot and the last an engineer. José graduated from University of Havana School of Medicine in 1928. He became interested in studying and researching prostate and bladder tumors, which led him to design the first Iglesias Resectoscope in 1945. This scope, which allowed one-handed resection of the prostate, was used by many urologists throughout the world.
Although his instrument did the job very well, Iglesias never stopped trying to improve it and he spent most of his time in study or research. When Castro came to power, Iglesias fought against the new regime and, after being a witness to the transportation of soviet missiles, was sentenced to 10 years in jail. During those years, he served inmates as jail physician for two years until he became ill and could no longer perform surgery. After 4 years of illness, he was set free and fled for the United States in 1969. When he arrived, even though he was weak and in a wheelchair, his mind was sharp and he craved work.
Though Iglesias was not expected to live, he continued to improve and became affiliated with the New Jersey School of Medicine. He and colleagues began to modernize the traditional resectoscope with new features such as suctions and irrigation systems.
In 1972, Iglesias and Manuel Ray, a well-known Cuban engineer, provided the world with the prototype of the New Iglesias Resectoscope, presented at the American Urological Association meeting in Washington DC, where he also met a German manufacturer who helped him produce his instrument.
José Iglesias died in 1979, remembered for his contributions and inventions including: the traditional resectoscope, the suction and continuous irrigation resectoscope, the stabilized loop, the suction resectoscope, the teaching attachment, the bladder pump evacuator, the antishock loop and the hydraulic hemostasis machine.