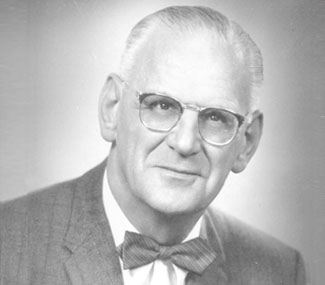 Adolph Aaron Kutzmann, MD was born in November 1896 in Chicago, Illinois. He moved to California where he received his entire education—from grade school through medical school—and, in 1925, entered the private practice of urology in Los Angeles (LA).
Dr. Kutzmann completed his preliminary college education at the University of California at Berkeley in 1918, and served in the Medical Reserve Corp from 1917 to 1918. He went on to receive his medical degree in 1922 from the University of California Medical School, followed by three and a half years of post-graduate work in urology including completion of his urological residency at the University of California Hospital in San Francisco. In 1927, he was granted AUA membership. In 1928, he was appointed by Alexander Randall, MD as junior attending urologist at the LA General Hospital, and was noted by Dr. Randall to have a "wonderful urological mind" and to be "one of the best trained young men in America." Dr. Kutzmann was certified in 1935 as one of the first members of the American Board of Urology.
In 1977, Dr. Kutzmann was elected to the status of honorary membership in the AUA, notably recognized for his efforts and endeavors on the behalf of organized urology. He was a prolific author of numerous publications concerning diverse topics in urology, was a member of various medical societies, served as president and secretary of the LA Urological Society, and served several roles on the executive committee of the AUA including nine years as secretary, one year as president, and several years as a member and representative of the western section. Dr. Kutzmann was also associate professor in urology at the College of Medical Evangelists in LA and eventually emeritus associate professor in urology at Loma Linda University.
Dr. Kutzmann's patients held him in high regard. In 1964, Dr. Kutzmann moved his 30-year-old medical office to a different location in the LA area. The event inspired one of his patients to plan a surprise banquet in his honor. After the patient shared the idea with a few other patients, the original idea for a banquet grew into a $4,200 gift of appreciation—complete with a planning committee and an interior decorator—that would furnish the doctor's new office for him. His patients revealed their extravagant gift to Dr. Kutzmann at his appreciation banquet at the Beverly Hills Hotel that May. The story was featured in a local newspaper article carrying the title "Here's A Switch—These Patients Treat the Doctor."