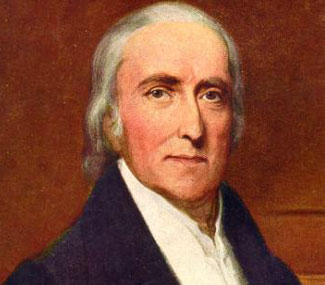 Philip Syng Physick, MD attended prep school and went on to receive a bachelor of arts from the University of Pennsylvania.
He apprenticed in the office of Adam Kuhn (1741-1817), a respected local practitioner, for three years and received a master's degree. It was here that cadavers, a recurring motif in Physick's life, first came to the fore. Physick had to boil a cadaver for anatomy class. The experience left him so shaky that he begged out of the medical profession. His father, perhaps believing in the providence of his Christian name, made his boy stay in school and graduate.
In 1789, Physick traveled to London where he became a pupil of John Hunter (1728-1793) and a house surgeon at St George's Hospital. Three years later, after attending a course of instruction at the university in Edinburgh, Scotland, Physick received his medical degree in 1792. Returning to his native city, Physick was soon appointed surgeon to the Pennsylvania Hospital (1794), and a decade later he was named to the newly-established chair of surgery at his undergraduate alma mater. In 1819, Physick transferred to the professorship of anatomy, where he remained for 12 years until his retirement.
Physick eventually devised many urologic instruments and procedures including a lithotomy gorget, filiforms and followers, urethrotome, waxed linen bougies for urethral dilation, buckskin ligatures and a needle holder. However, he authored almost no publications. Despite this, Physick has been called the "Father of American Surgery."
Dr. Physick died in 1837.