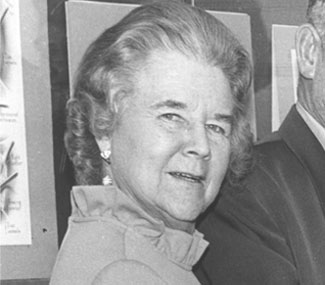 A woman of many talents, Ms. Bertha May Trott guided urology at Hopkins and the AUA for more than four decades. At the age of 18, she became Dr. Hugh Hampton Young's personal secretary at the Brady Urologic Institute at the Johns Hopkins Hospital (1923). There she handled his routine tasks and correspondence as well as preparing numerous important texts on urology (Young's Practice of Urology, Genital Abnormalities, etc.) for publication. She proofread and edited the many, many scientific articles published in the Journal of Urology (of which Hugh Young was editor) and supported young Brady urologists and residents in their publications as well.
Ms. Trott remained secretary to Dr. Young until his death in 1945; she stayed on to assist the Journal of Urology's editors another 25 years until her retirement in May 1970.
The American Urological Association presented Bertha Trott with a plaque of appreciation for her dedicated service throughout the years, and Journal editor Hugh Jewett wrote:
"This gentle lady was blessed with optimism, enthusiasm, competence and rare judgment. Her cheerfulness and warm regard for others will remain unsurpassed. She will be missed by all who knew her, and especially by many members of the AUA who over the years have relied heavily on her encouragement and help."
Three years after her retirement, Trott died at the age of 68 following a long illness.
Reference:
Jewett, Hugh J. "Bertha May Trott." Journal of Urology, vol. 111, no. 1, 1974, p. 1.