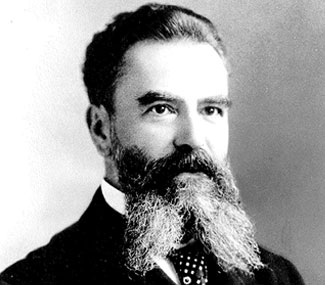 Ferdinand Valentine, MD was born on March 22, 1851 aboard his grandfather's vessel registered in Germany. In his early years his family moved to the United States. Valentine received his medical degree from what became the Missouri Medical College, graduating in 1876. Initially he wanted to specialize in diseases of the eye, but after initial studies decided to go to Central America where he became Surgeon General of the Army of Honduras. He developed an interest in urology and returned to the States nine years later where he spent a few years in general practice. Valentine then revisited Europe to study genitourinary diseases and urologic surgery.
Returning home to New York, he became a Fellow of the New York Academy of Medicine, and joined a number of prestigious urological associations in France, Belgium, and Germany. He advanced to become Professor of Genitourinary Diseases at the New York School of Clinical Medicine.
Valentine was one of the founders of the American Urological Association, its first secretary, and its third president. He died December 13, 1909 at his home in Bel Harbor, Long Island, New York.
Additional Resources:
New Instrument: An Improved Urethroscope [pdf]