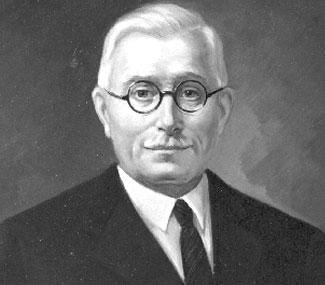 Reinhold H. Wappler, MD was born in 1870 in Oranienbaum, Anhalt, Germany and immigrated in 1890 to New York and repaired instruments at an instrument company. A skilled designer and eventually maker of electrosurgical instruments, he pioneered high-frequency devices for medical use.
Until the early 1900s, Germany and Austria were the sole sources of the delicate optical instruments on which American urologists depended, and there were great difficulties and long delays with shipping instruments back and forth for repairs. A number of New York urologists sought out Reinhold Wappler to not only do the repairs of their European instruments, but also to create American instruments. Valentine, Guiteras, Buerger, McCarthy and Tilden Brown were just a few of those who convinced Wappler to begin his new company, initially the Wappler Electric Corporation, which merged with his instrument company to form the American Cystoscope Makers Inc. This company was incorporated in 1900 and became and remained the dominant developer and manufacturer of endoscopic instruments for the United States for more than half a century. The first American-made and designed instrument was produced by Wappler in 1902; shortly thereafter he developed a new telescopic objective lens embodying a hemispherical lens, with William K. Otis, for which he was granted his first U.S. patent.
In 1929, he was elected an honorary member of the AUA. Wappler died in 1932.